Just What Dr. Carson Ordered—Free Speech
By Alliance Defending Freedom
Posted Feb 11, 2013
By Travis C. Barham, Alliance Defending Freedom Litigation Staff Counsel
When Charles Dickens opened A Tale of Two Cities by saying that "it was the age of wisdom, it was the age of foolishness," he did not have in mind last week's National Prayer Breakfast.  But he could have.  For two speakers provided a vivid study in contrasts on the need for free speech in a free society.
On the one hand, President Obama chaffed at the freedom of the press.  After commenting on what a "wonderful event" the prayer breakfast was, he chided the audience for—in his mind, at least—forgetting the event so quickly.  Specifically, he bemoaned:  "I go back to the Oval Office, and I start watching the cable news networks, and it's like we didn't pray."  Apparently, he forgot that the First Amendment protects the freedom of the press precisely so that it can criticize government officials like him.  After all, what government ever tried to silence a reporter who was complimenting him?  And apparently, the President fails to realize that people who pray for him do not also have to agree with him.
On the other hand, Dr. Benjamin Carson—the renowned neurosurgeon and subject of the film, Gifted Hands—chastised those who would curtail free speech in the name of either political correctness or not being "offensive."  He observed that far too many people wear their "feelings on their shoulders" and warned that "PC police are out there in force at all times."  So now "people are afraid to actually talk about what they want to say because somebody might be offended," even if it is just a "greeting of goodwill" like "Merry Christmas."  So "we have to get over the sensitivity" because "it keeps people from saying what they really believe."
Being a doctor, he had a prescription for the disease of political correctness:  "What we need to do in this PC world is forget about unanimity of speech and unanimity of thought. . . ."  Why is this prescription necessary?
[Political correctness] is dangerous because . . . one of the founding principles [of this country] was freedom of thought and freedom of expression.  And it [political correctness] muffles people.  It puts a muzzle on them, and at the same time, keeps people from discussing important issues while the fabric of their society is being changed.  We cannot fall for that trick.
But Dr. Carson did not just prescribe free speech; he also exercised it, and you can witness the results below.  He criticized our nation's deficit spending in front of the president who increased the debt by $6 trillion.  He advocated a flat tax and argued that our tax system should not seek to punish the wealthy in front of the president who increased taxes on "the wealthy" to make sure they pay their "fair share."  And he argued that health savings accounts would address America's health insurance problems in front of the namesake of Obamacare.
It is admittedly a sad day when a doctor must remind the President—a former constitutional law lecturer—that our nation must cherish and protect free and unfettered debate in order to remain free and healthy.  But perhaps his remarks will inspire others to speak their minds, without being muzzled by fear of offending someone.  After all, if he can do it just feet from the President, the rest of us can, too.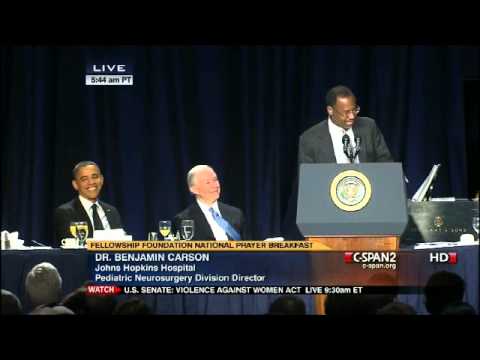 Author: Alliance Defending Freedom